August 2, 2022
Details of the elimination of the main terrorist Ayman al-Zawahiri appeared: "Hellfire"
The name of the future leader of the terrorist group has been named
The Americans killed the leader of Al-Qaeda (a terrorist organization banned in Russia), Ayman al-Zawahiri, in a drone strike in Afghanistan. This was announced by US President Joe Biden.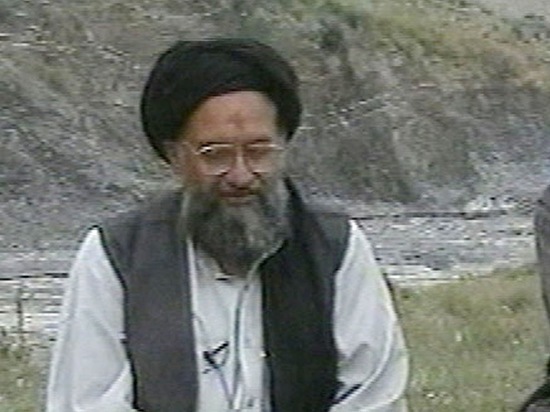 Photo: Global Look Press
"I have authorized a targeted strike that will take him off the battlefield once and for all," President Joe Biden said in a White House address on Monday.
As reported by CNN, Ayman al-Zawahiri, who had just turned 71, remained a symbol of the group 11 years after the US assassinated his predecessor, Osama bin Laden. At one point, he acted as bin Laden's personal physician.
Biden said Zawahiri was holed up in downtown Kabul to reunite with his family and was killed Saturday in what a senior US administration official called a "finely timed airstrike" using two Hellfire missiles. The drone strike was authorized by Biden after weeks of meetings with his cabinet and key advisers, the official said on Monday, adding that there were no US personnel in Kabul at the time of the strike.
According to the official, high-ranking figures of the Taliban ("Taliban" – a terrorist organization banned in the Russian Federation) Haqqani faction knew about the presence of Zawahiri in the area, which is a "clear violation of the Doha agreement", and even took steps to cover up his presence after Saturday's successful strike. , by restricting access to the shelter and quickly relocating members of his family, including his daughter and her children, who were intentionally unharmed during the strike and unharmed. The US did not alert Taliban officials about Saturday's operation.
In a series of tweets, Taliban spokesman Zabiullah Mujahid said: "On July 31, an airstrike was carried out on a residential building in the Sherpur district of Kabul."
He wrote that "at first the nature of the incident was not clear," but the security and intelligence services of the Islamic Emirate conducted an investigation into the incident, and "initial findings showed that the strike was carried out by an American drone."
Mujahid's tweets appeared before CNN reported Zawahiri's death. Mujahid said that the Islamic Emirate of Afghanistan "strongly condemns this attack under any pretext and calls it a clear violation of international principles and the Doha agreement."
Biden, who was aware of the Zawahiri strike, spoke Monday outdoors from the balcony of the Blue Room at the White House.
Zawahiri, according to Biden, "was actively involved in planning the 9/11 attacks, being one of the main responsible for the attacks that killed 2,977 people on American soil. For decades, he has been the mastermind behind attacks on Americans."
"Now justice has been served and this terrorist leader is no more. People around the world no longer need to be afraid of a vicious and determined killer, the US President continued. "The United States continues to demonstrate our determination and our ability to protect the American people from those who seek to harm us. Tonight we say again that no matter how long it takes, no matter where you hide, if you are a threat to our people, the United States will find you and remove you."
The President said the targeted strike was the result of "extreme perseverance and skill" by the country's intelligence community.
"Our intelligence community discovered Zawahiri earlier this year – he moved to downtown Kabul to reunite with members of his family," Biden said.
According to CNN, the strike came a year after Biden ordered the withdrawal of US troops from Afghanistan, prompting Taliban forces to quickly seize control of the country.
Biden said on Monday that when he withdrew US troops from the country, he "decided that after 20 years of war, the United States no longer needed thousands of soldiers on the ground in Afghanistan to protect America from terrorists who seek to harm us, and I made a promise to the American people that we will continue to conduct effective counterterrorism operations in Afghanistan and beyond. We did just that."
A senior counterterrorism analyst commented to CNN that Zawahiri could not be in Kabul without the invitation and tacit consent of at least a small number of the Taliban, whether from the Haqqani network or another part of the group.
The analyst said that the strike embarrassed the Taliban because they claimed there were no foreign fighters and no al-Qaeda in Afghanistan.
Now the question arises who will succeed Zawahiri. According to the UN, the current "Al-Qaeda Man No. 2", Saif al-Adel, is believed to have been in Iran. This raised a pressing issue for the Iranians, who now have to choose between expelling the new al-Qaeda leader or hiding him, the analyst said.
A former Afghan government official well versed in the fight against terrorism said that as far as he knows, Saif al-Adel has already left Iran for Afghanistan.
According to the New York Times, Zawahiri comes from a noble Egyptian family. His grandfather, Rabia al-Zawahiri, was an imam at al-Azhar University in Cairo. His great-uncle Abdel Rahman Azzam was the first secretary of the Arab League.
Ayman al-Zawahiri himself helped organize the deadliest terrorist attack on September 11, 2001. "Those 19 brothers who went out and gave their souls to Almighty Allah, Almighty God granted them this victory that we are enjoying now," al-Zawahiri said in a video message published in April 2002.
It was the first of many tongue-in-cheek messages that the terrorist, who became the leader of al-Qaeda after US troops killed bin Laden in 2011, sent out over the years, urging the militants to keep fighting America.
Zawahiri was constantly on the run when the US invasion of Afghanistan began after the 9/11 attacks. At some point, he narrowly escaped an attack by the US military in the mountainous region of Tora Bora in Afghanistan, an attack.
Ayman al-Zawahiri rose to prominence as an Islamist militant when he went to prison for his role in the assassination of Egyptian President Anwar Sadat in 1981. By then, the young doctor had been plotting for years to overthrow the Egyptian government and sought to replace it with fundamentalist Islamist rule. He proudly supported the assassination of Sadat after the Egyptian leader made the Camp David peace with Israel. He spent three years in prison after Sadat's assassination and claimed that he was tortured while in custody. After his release, he went to Pakistan, where he treated wounded militants who fought against the Soviet troops in Afghanistan. It was then that he met Osama bin Laden.
Together, the two terrorist leaders signed a fatwa authorizing and even requiring the killing of Americans and their allies, whether civilians or military. After suicide bombings on US embassies in Kenya and Tanzania that killed more than 200 people and injured more than 5,000, Zawahiri and bin Ladenk managed to avoid a retaliatory US cruise missile attack in Afghanistan.
< p>Then, in October 2000, the USS Cole in Yemen was attacked by terrorists in a boat, killing 17 US sailors and injuring 39 others.
Al-Zawahiri's terrorist career culminated on September 11, 2001, when nearly 3,000 people were killed in an attack on the twin towers of the World Trade Center and the Pentagon. A fourth hijacked Washington-bound airliner crashed on a field in Pennsylvania after (officially) passengers resisted hijackers.
Since then, al-Zawahiri has released numerous videos and audio recordings calling on fellow believers join the "jihad" against the United States and its allies. Some of his recordings were followed by terrorist attacks, CNN recalls. For example, in May 2003, near-simultaneous suicide bombings in Riyadh, Saudi Arabia, killed 23 people, including nine Americans, days after a recording allegedly containing Zawahiri's voice was released.
The US State Department has offered a reward of up to $25 million for information leading to his capture. A June 2021 United Nations report suggested that Dr. Ayman al-Zawahiri was somewhere in the border region of Afghanistan and Pakistan and that he might be too weak to be shown in propaganda materials.