July 31, 2022
Boris Johnson still has a chance to become NATO Secretary General
Just wait two years
Poor, poor Johnson. The outgoing British prime minister is apparently not destined to continue his political career. Such an enticing, seemingly directly tailored post of NATO Secretary General turned out to be inaccessible to him. And, what is most offensive, for reasons beyond Johnson's own control. According to a TASS source in Brussels: "The main reason is that there is an unspoken consensus in NATO that a woman should become the next secretary general of the alliance, and preferably a representative of the new NATO countries."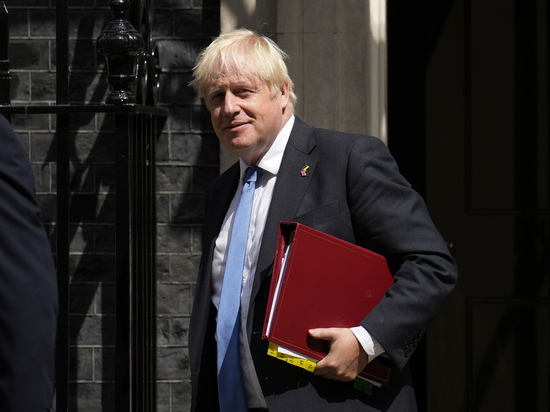 Photo: AP
All this may seem like an evil propaganda joke of Russian journalists. After all, this is not a casting for a youth series. But no. Ten days ago, the influential American publication Politico reported that three women were the main contenders for the outgoing Jens Stoltenberg. And these three fit the criteria described by TASS: ex-president of Lithuania Dalia Grybauskaite, ex-president of Estonia Kersti Kaljulaid and ex-president of Croatia Kolinda Grabar-Kitarovic. Only now the main contender for the Russian agency is different: former Prime Minister of Estonia Kaja Kallas.
What can Boris Johnson do against this "tacit consensus". This is the "Freedom, Equality, Fraternity" of our days. What can oppose "inclusiveness" to a white, heterosexual, and even recently married man, Boris Johnson.
When the president of the world (more precisely, the United States) Biden publicly boasts: "I have more members of the LGBT community working for me than in any other administration. Than in all other administrations combined," Johnson has only one chance. Yes, let now the "consensus" is on the side of the Baltic women. But it's not forever. In two years there will be new elections, and blondes in the role of general secretaries will seem like a mossy yesterday. And maybe then it's time for something cooler. Transgender women, for example.
In the US, that time has come. An example is the success story of the famous American transgender woman, Admiral Rachel Levin (the same man in a naval tunic, skirt and pumps). Then Richard Levin was born in 1957, trained as a pediatrician, got married and even became the father of two children. But since 2000 he began to wear long hair, and since 2011 he left his wife with children and asked to be considered a woman. The main American magazine "USA Today" declared Rachel "Woman of the Year". And then she "unexpectedly" became very lucky with her career. In 2015 – Chief Medical Officer of the state (the first transgender in such a position). Two years later – the Minister of Health of the state (of course, the first transgender in such a position). In 2021, he is already the assistant secretary of health for all America (you guessed it, the first transgender in this position). In addition, such a post is not just appointed, but confirmed in the Senate. And Rachel became the first transgender person to be confirmed in office by the Senate. For this to happen, in addition to the Democrats, two Republican senators had to vote for her. And I don't even want to think about what and where the "tacit consensus" promised them for this. And at the end of the same 2021, Rachel, who had not served in the army for a day, was awarded the rank of four-star admiral in the US public health officer corps. (And guess what: the first transgender, of course).
Is it possible to assume that until the age of 54, a man who worked as a pediatrician did not show any leadership qualities, and only when he put on a skirt, he was suddenly pushed to become a wonderful medical organizer.
Producer Weinstein had just been imprisoned for life ( for 23 years) for the fact that he arranged a career as an artist through bed. And what about the career of Admiral Rachel Levin?
So Boris Johnson is still quite capable of becoming Secretary General of NATO. You only need to publicly "feel like a woman" in a couple of years. After all, now this does not require any surgical operations or courses of injections with hormones. Only a statement. Tint eyebrows, eyelashes. A hairstyle like this will do.
In the USA, recidivists who have spent decades in prison and suddenly feel like women are transferred to women's colonies. They think it's worth it.
Well, if it doesn't work out with transgenderism, you can wait for some next "inclusiveness" twist. Bestiality, for example, everyone loves cats.