July 27, 2022
Where can Russians go without visas? infographics
Russia is negotiating visa facilitation with almost 18 countries. This in an interview with TASS reported Director of the Consular Department of the Ministry of Foreign Affairs of the Russian Federation Ivan Volynkin.
According to the representative of the Ministry of Foreign Affairs, Russia is conducting a dialogue with the states of Latin America and the Caribbean, as well as with Malaysia, China and Hong Kong.
Where can Russians go now without visas?
According to the latest data from the Consular Information Portal of the Ministry of Foreign Affairs of the Russian Federation, Russians with ordinary passports can make visa-free trips to almost 70 countries of the world, including Asia, Africa, North and South America.
So, for example, Russian citizens can enter the following foreign countries without a visa:
Azerbaijan
Armenia
Barbados
Belarus
Kazakhstan
Kyrgyzstan
Tajikistan
Uzbekistan
Moldova
Saint Lucia
South Ossetia
The visa-free regime of Russia with other countries suggests a shorter stay in the country. For example, stay up to 90 days without a visa for citizens of the Russian Federation is allowed in countries such as:
Abkhazia
Albania
Bahamas
Vanuatu
Costa Rica
Maldives
Morocco
Saint Kitts and Nevis
Suriname
Trinidad and Tobago
Tunisia
Fiji
South Africa
The following foreign countries are admitted without a visa up to 90 days within 180 days:
Antigua and Barbuda
Argentina
Belize
Bolivia
Brazil
Venezuela
Guyana
Guatemala
Honduras
Grenada
Dominica
Israel
Qatar
Colombia
Cuba
Namibia
Nicaragua
UAE
Panama
Paraguay
Peru
El Salvador
Saint Vincent and the Grenadines
Uruguay
Chile
Ecuador
No visa up to 30 days accepted:
Indonesia
Macau Special Administrative Region, China
Laos
Malaysia
Marshall Islands
Federated States of Micronesia
Palau
Seychelles
Serbia
Thailand
Tonga
Philippines

< li>Montenegro

Eswatini
In the Dominican Republic without a visa you can stay up to 60 days but Vietnam and the island state of Sao Tome and Principe allow visa-free visits are only for 15 days.
See in infographics aif.ru what conditions (terms) of visa-free stay in foreign states apply for citizens of the Russian Federation.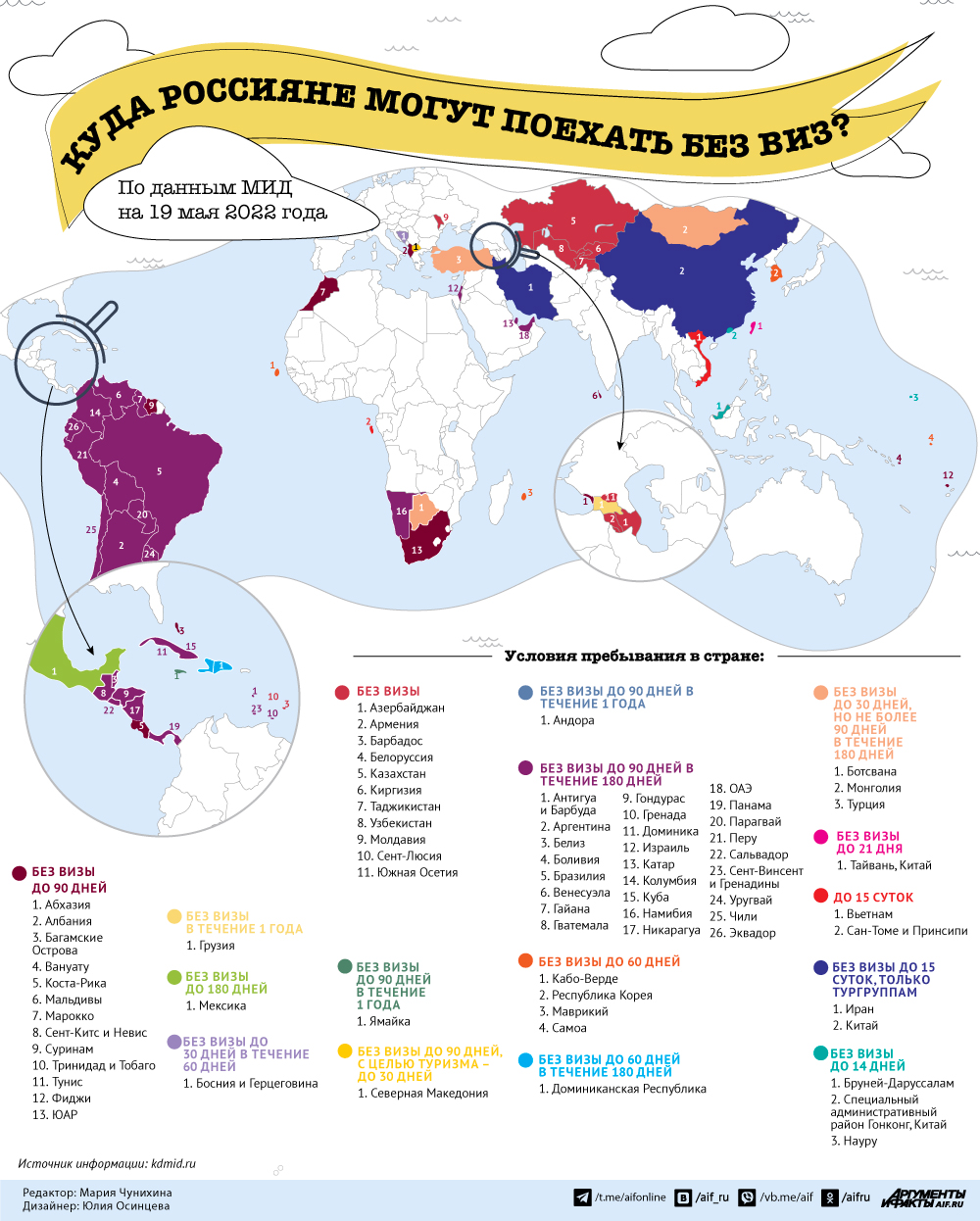 Sources:
tass.ru
kdmid.ru
Rate the material