July 21, 2022
What kind of English light armored personnel carriers FV103 Spartan entered service with the Armed Forces of Ukraine?
Topic Special operation of the Russian Federation in Donbass and Ukraine
Ukrainian military personnel have begun transferring British-made FV103 Spartan armored personnel carriers (APCs) to the Bakhmut area. The FV103 Spartan is almost impossible to confuse with other Allied armored personnel carriers due to the strongly forward inclined frontal part and close-set headlights.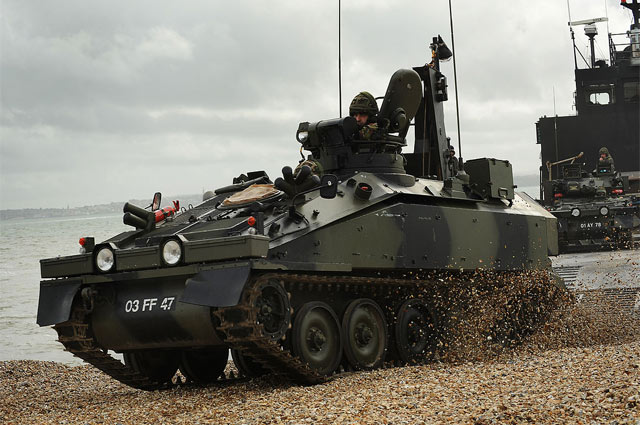 FV103 Spartan. Photo: en.wikipedia.org
Where did they come from?
The first data on the supply of such tracked vehicles to Ukraine appeared in the middle of last month. In total, three and a half dozen such tracked vehicles should be transferred as military assistance.
The armored personnel carriers were delivered on truck trawls using KrAZ-6446 tractors. Two armored personnel carriers are transported on one platform. It is noted that the British side handed over 35 FV103 armored personnel carriers to the Armed Forces of Ukraine.
History
The FV103 entered service with the British Army back in 1978. They were originally used to deliver anti-aircraft gunners or sappers. In total, about 1000 FV103 Spartan units were produced. About 500 vehicles were in service with the United Kingdom until 2007.
Currently, the FV103 is considered obsolete, and in the British army such equipment is being replaced by more modern ones. It is possible that these "gifts" for APU — not the last. In addition, it must be taken into account that Ukrainian tanks, infantry fighting vehicles and armored personnel carriers do not "live" for long; in units participating in combat operations. As a rule, such materiel is relatively quickly destroyed by allied forces or captured in the form of trophies.
Characteristics
Spartan has high mobility and fairly compact dimensions. The dimensions of the armored vehicle are slightly larger than a full-size crossover: length — 5.16 m, width — 2.48 m and height — 2.63 m. In total, four people are placed in the troop compartment, plus three more crew members (commander, driver, gunner with a 7.62 mm machine gun).
Combat weight — 8172 kg. Diesel engine power — 250 HP Maximum highway speed — 80 km/h Fuel range — 640 km. This armored personnel carrier is equipped with a 5.9-liter Cummins turbodiesel and 190 hp. It allows tracked vehicles to accelerate to 96 km/h and drive up hills up to 60%. In addition, overcoming water obstacles is not a problem for the FV103.
Defense and attack
The tracked vehicle received aluminum armor up to 60 mm thick and a diesel engine with a capacity of 195 horsepower. The frontal parts withstand 14.5 mm armor-piercing bullets from a distance of 200 meters, and the side and stern protect the crew from small arms fire and fragments of shells and small-caliber mines. The APC's arsenal includes a machine gun and smoke grenade launchers.
Rate this article